Our guide on how to choose an outsourcing company
10th March 2023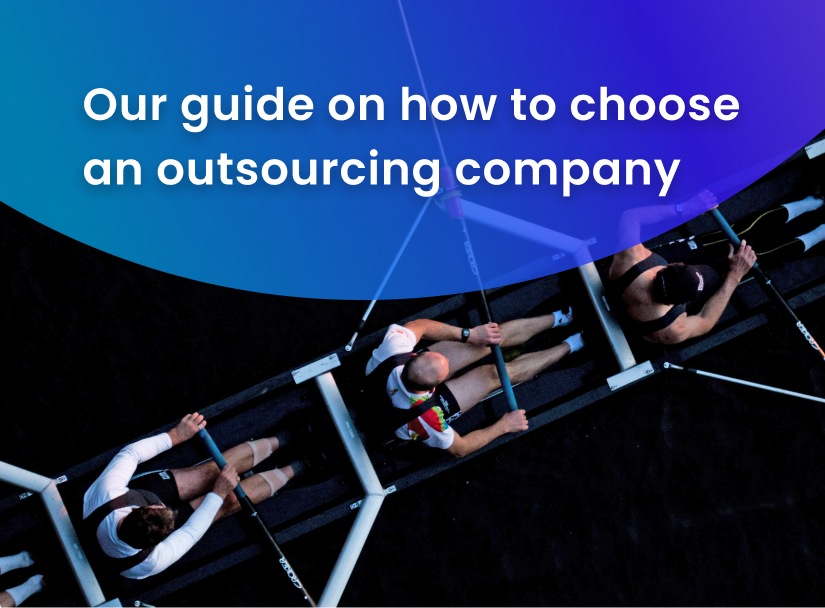 In February, we hosted a webinar on How To Get The Best From Your IT Team, and the section that generated the most interest was our advice on how to choose the right outsourcing company. For those who missed it, here is our advice that you won't find on Google.
1. Decide your definition of success
Before you even start looking for a team, your first job is to decide what a successful relationship looks like to you. Do you want a team that will work independently for long periods of time? Or do you want to work closely with them every day? Do you want a team that will challenge your decisions? Or just a team that will follow instructions? Do you want a team that will be able to scale up and down quickly? Or one that will be stable and not change? In this preliminary stage, we're not talking about creating requirements; we're talking about deciding what type of team you want. Visualise what a successful relationship would look like and write it down.
In Theresa Sigillito Hollema's excellent book, Virtual Teams Across Cultures, she explains there are four types of virtual teams: pooled, sequential, reciprocal, and integrated.
Traditional outsourcing teams are often sequential or reciprocal. You set a task, the team does it, and you get it back. Partnerships where the outsourcing team truly works with the client's team, defining requirements, jointly deciding the solution, and maybe even pair programming are considered integrated.
Decide which model you are looking for before you begin your search. Every outsourcing company works differently, and it is critical you find one that will work the same way as you want to. At Secret Source, we believe in the integrated model, but many companies follow a more sequential approach.
Important caveat: If you are a start-up and need a fully integrated model, one where there will be lots of brainstorming, lots of pivoting, and, most likely, many late nights, then you probably shouldn't be considering outsourcing. You shouldn't even be working with remote workers. Research shows that start-ups that have employees in the office grow three and a half times faster than those that don't.
Contact the Secret Source team
2. Allocate time and resources to one or two people on your team to work with your outsourcing team
While this is not the advice you'll hear from many companies like ours, we believe you should set some of your outsourcing budget aside to hire someone in-house to work with your outsourcing team. Having someone in-house is essential for communicating your company's goals and priorities. Without them, however much documentation you give them, your team may find it hard to align with your needs. This person could be a product owner, project manager, or scrum master.
In addition … If you want a more integrated model, one where your team feels part of your company, then you will also need someone technical, such as a CTO or a senior developer, for example, who can work side by side with your outsourcing teams. The teams in Secret Source who work with technical people on the client side tend to work better.
Contact the Secret Source team
3. Values alignment
When we meet potential new clients, one of the first things we look at is their values and if they match ours. At Secret Source, we focus a lot on employee wellbeing, psychological safety and building strong relationships with our partners, and it is important to us that our clients believe the same. In the past, when we've worked with companies who don't share the same values, the relationships have never blossomed. So, decide what is important to you. This may be work flexibility, employee wellbeing, and collaboration, for example, and seek out partners that think the same.
At times, we encounter potential clients who are looking for a more transactional relationship where they simply provide requirements and expect their team to complete the task with minimal disruptions. They are more concerned with the output of the work rather than the team that will be completing it, for them, their priority is for them to be able to focus on their job rather than building a psychologically safe, collaborative team. While this approach may work for some companies, it does not align with Secret Source's ethos of fostering integrated partnerships, so, in these situations, we recommend they find an outsourcing partner that matches their values and needs.
Contact the Secret Source team
And finally…
Once you've decided what success will look like and what type of team you want, and once you've decided how you will work with your team internally and what values are important to you, it's time to find a partner.
There are thousands of outsourcing companies out there. The ones at the top of Google are the ones that are best at SEO, the ones that reach you via email are the best at email marketing, probably not skills you are interested in. So how do you find a team? Our recommendation is to ask your network, put a post on LinkedIn, and you're bound to get some ideas.
Once you decide on a team, our bonus tip is to get everything in writing. Define how you're going to work – Agile or Waterfall, how many meetings you'll have, whose bank holidays you'll take, etc. Clarifying everything up front will make sure you create alignment and ensure you're all on the same page. This can be really important when you find a bug on your website and your whole IT team is on holiday.
If you're interested in how we work, how we've built our happiness-first culture as well as how we're continually challenging ourselves to make a happier company, please follow us on LinkedIn to get regular updates on our progress, and, if you're curious as to how far we'd go at Secret Source to keep our team happy, check out the interview with our founder on The Karmic Capitalist podcast.
Graphic on virtual teams created based on the work of:
Maynard, M. T., & Gilson, L. L. (2014). The Role of Shared Mental Model Development in Understanding Virtual Team Effectiveness. Group & Organization Management, 39(1), 3–32.
Bell, B. S., & Kozlowski, S. W. J. (2002). A Typology of Virtual Teams: Implications for Effective Leadership. Group & Organization Management, 27(1), 14–49
Contact us now to find out more about Secret Source